Last year I saw more wingless bees than I had expected and I used more thymol than I had expected. I realized that I could partially thank the bad weather fort thias. The bees had got too little of pollen. Their immune system was not at its peak.
It was not easy to find suitable breeder queens, ie, who showed great varroa resistance. I found a colony that had not needed varroa treatment for a few years and it had not had any wingless bees. VSH test could not be done as I found only one mite in more than 100 pupae. And this mite had no offspring. So if you would allow it to determine the VSH-level, this would be 100% VSH. However, the so-called statistical significance was non-existent because of the low number of mites (just one single one). Well, the low number of mites were decisive. S241 was last year's most important breeder colony.
This summer, I have not seen much of mites and almost no wingless bees so far. Some odd mites in 4 colonies, of more than 140 hives. Well, those who got the most thymol last year, got Thymol in May this year and then got its Queen replaced. So that's one explanation, about 15 colonies. A colony that was a split from one of those 15, which raised a queen of their own was the first. Due to it's history it got Thymol as soon as I saw the wingless bee. The queen will be shifted.
A problem hive had got a daughter of S241 last year. A Beeshaker test though showed 0% varroa level. Viruses still a problem in spite of no mites? 
The other day I saw a wingless bee on the hard board in front of the entrance of a colony that had got a lot of Thymol last year. It did not get Thymol in May as it was shifting its queen in May, I found a dead virgin on the hard board and drew that conclusion. I decided to make a test with the Bee shaker due to the wingless bee. I did it yesterday, July 20, 19 mites out of minimum 300 bees , 6.3% varroa level. The hive got Thymol.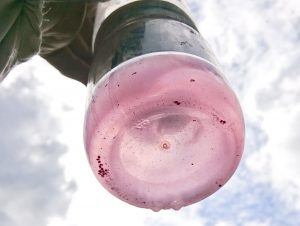 19 mites, 6.3% Varroa level – Thymol.
Today I came to an apiary with a daughter of the 241 (introduced in 2015) which have had no need for Varroa treatment in a couple of years, neither 2014 nor 2015. This colony was now a strong colony that given a good crop. With still some time to go for eventual more honey to come.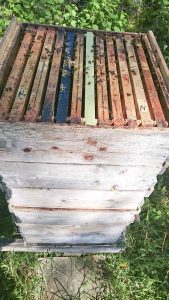 No need for treatment for a couple of years (2014 and 2015) plus probably this year. Actually lower Varroa level now compared with spring ( at least not bigger).
In May, I tested interesting candidates for being breeders with the Bee shaker. This 241-daughter was among those of course. The Varroa level was 2%. I didn't give it Thymol as this was not more than 3%. I had several colonies, including several 241-daughters, that got only a few grams of thymol in spring 2015, which showed no mites at all (zero) out of more than 300 bees. The two best with different heritage (one was a 241-daughter) I used as breeders this year.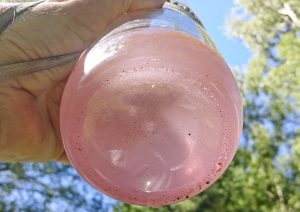 4 mites, 1,3% Varroa level now.
2% -colony I tested today July 21 regarding the Varroa level, 4 mites out of a little more than 300 bees. 1.3% infestation level. At least not higher Varroa level after 2.5 months. A strong hive that has given a good crop. The Varroa level would have been much higher if the bees could not get rid of mites themselves. This colony has thus been able to get rid of mites by themselves. What a great feeling!
Now this does probably not only depend on the queen. It was introduced to a colony that had not needed any treatment for at least a year. The worker bees might have learned the new queen's bees some tricks how to deal with mites. It would not surprise me if there is a combination of reasons for the mite fighting ability of this colony. http://www.elgon.es/diary/?p=880 http://www.elgon.es/diary/?p=890