It has been discussed where to take the bees when making the test for infestation level of Varroa mites with the Bee Shaker. From a brood frame or just near the brood. The first week of May, I did a test with the Bee Shaker of a number of bee colonies. After that I inserted sticky boards to collect the natural downfall. This happened to coincide so that two colonies tested with the Bee Shaker also got sticky boards. The sample of bees for the Bee Shaker were taken from the middle of a the super just above the queen excluder.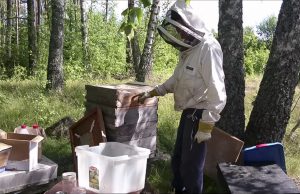 A good compromise place to take the beesample from to the Bee Shaker is in the middle of the first super above the queen excluder. You don't have to look for the queen. Not close to the entrance where the number of mites are fewer than average. And not far awav from the brood, when there are many honey supers. The number seems to vary more there.
Those colonies tested were choosen as I had found them to be potential breeders. The two colonies mentioned both had one (1) mite in the Bee Shaker out of about 350 bees, ie about 0.3% infestation level. Three weeks of natural downfall thereafter gave 7 mites from one and 8 from the other. The sticky boards covered almost the entire bottom. Let's say I missed seeing two mites. If so it was thus about 0.5 mites per day.
Multiplying this figure with 120 I have heard gives a figure for the total number of mites in the colony. 0.5 x 120 = 60 mites in total then. The number of bees in the colonies were at least 30 000. But let's say it was 30 000. Then 60/30000 would maybe give an infestation rate = 0.2%. But now I've seen reports that one should multiply by 30 (20-40). Then it will be completely different figures (in "favor" of the Bee Shaker). Collecting natural downfall should be done during the normal brood period, not in the very beginning or the very end of the brood season. In the case of the natural downfall of varroa mites, mites will also come from mites emerging from brood cells that have hatched during these three weeks. The natural downfall should therefore have given more mites compared with the Bee Shaker if these methods should have given corresponding figures. Therefore, the conclusion should be that the Bee Shaker revealed a greater proportion of the total number of mites in the hives than the natural downfall did.
The Bee Shaker could therefore be trusted to be an enough reliable tool to show infestation levels of Varroa mites, when samples are taken close to the brood, but not from brood frames. http://www.elgon.es/diary/?p=914
The Bee Shaker – where to take the sample