After reading the blogpost "Breakthrough?" an European PhD-Scientist wrote me an email with the following comment:
"After reading your post I realized that you do have small cell size, but you're not mentioning it in the actual post. To make sure that the reader's get the full picture, the main components of your management system, this should be explained for them.
For instance, for me it's a fact, that the cellsize used in a selection program is a factor incorporated in the population just like springfeeding appears to create a dependency of that feed to make bees start an explosive spring behavior.
As our bees are still wild animals, you can select whatever you like (or forget to see as selection-factor) to specialize your bees. Feel very good that your selection works.
But looking at the picture I have, some more 'vitality' comes with better Varroa control. More or less 'Race'-independent. Question for me: 'slight inbreeding effect'?"
A valuable comment which gives food for thought. Thanks!
Small cell size (SC) is so natural for me, that it's the normal thing. I forget it sometimes. Those small quick bees flying directly into the entrance are what I expect when looking at a bee colony.
It's interesting Eric Erickson in Tucson when he started his breeding project for Varroa resistance found that many survivors that he used in his program were on 5.1 mm cell size. This was quite smaller than the most common 5.4 mm. http://www.elgon.es/diary/?p=457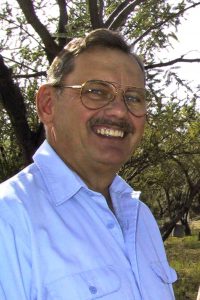 Eric Erickson when I and Hans-Otto Johnsen visited him and Lenard Hines about ten years ago talking Varroa resistance.
Erickson is said to have been forced to retire earlier than he should have. He died earlier this year (2016) well above his 70th year. There were nice obituaries, but I couldn't find a word about his Varroa resistance program. Strange.
Every spring since I started to take my bees down to small cell size, when I took care of the dead outs after winter I saw that many combs were poorly drawn. The bees had many times failed to follow the 4.9-pattern and drawn patches of sometimes bigger worker cells and sometimes a lot of drone cells. Also when managing struggling colonies during the season the same observation was many times made. This year very little of this was seen. But I still have some colonies that can't follow the 4.9 pattern when drawing their own combs (but they do well on already drawn small cell combs, especially colonies with heritage from queens from other beekeepers I have found interesting to try.
At the same time I'm aware that there are beekeepers that havn't treated against Varroa for many years that still use large cell sizes. I draw he conclusion that it is possible to keep bees on large cell size and still be treatment free. But I see very little reason for not going down in cell size. The most important reason is that the bees themselves go smaller when given the chance. It must have something to do with their fitness and survival, not actually in first place in relation to Varroa.
Concerning the earlier blog post "Breakthrough?" and that I have used very little Thymol this year. Last year at the end of July I had used Thymol on about 70% of the colonies. This year at the same time of the year I have used Thymol on 2 colonies out of about 150 (I had about 150 last year too). I find it hard to believe that the only reason would be a successful breeder queen. I think better pollen availability this year has given a better immune system. And reinvasion I think is less problematic. With the latter in mind, I can imagine that adaptation to better control the mites is developing in the bees. And the absence of chemicals, in this case thymol, do not disturb this adaptation.
Another change in management is that I don't move bees between apiaries. When making splits they stay in the same apiary. If there's only one colony in a yard I split that colony and build up the apiary again this way (from now on). Some minor movements of bees have been done though.
Small cell size important in breeding Varroa resistance