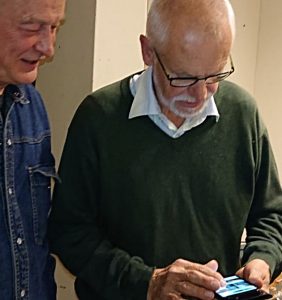 Courses with speakers are a good activity for beekeeping associations. Some time ago I lectured in a small town in eastern Sweden. I meet many nice people and personal stories. For example, the best coffee I've been having for a long time – freshly made at the pizzeria in the small town of Valdemarsvik.
I shared experiences about resistance to varroa and breeding Elgon bees. One of the interesting beekeepers I met was David Fogelberg. I write about him because of his experiences with Elgons. (Click on the pictures to get them larger. Then click on the back arrow in the browser to get back to the article.)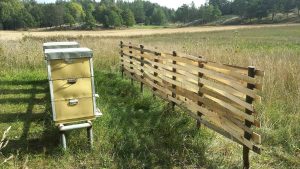 A few years ago, David had no wind protection in front of the hives. Then he had 15-20% winter losses. After setting up wind protection, winter losses fell to below 10%. But in 2017, some colonies received old feed solutions. These colonies suffered and winter losses were therefore higher. There are more beekeepers than David who have reported higher winter losses and looks when they have given old sugar feed solutions in preparation for winter. Probably, the HMF content had increased during the storage time. Bees withstand high HMF content badly (But it's not dangerous for humans, there is a lot in, for example, caramel).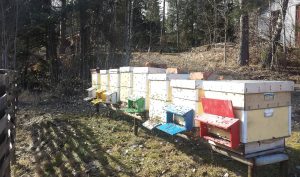 David's first Elgon queens
Four years ago, David bought three Elgon queens from me. Two were accepted by his bees. When he replaced queens in the rest of his colonies to daughters from these two queens he could handle his bees with short pants and without veil. It's probably good though to wear at least a veil for safety.
– But then you used a smoker, I commented.
– Yes, David replied. I smoke the entrance and wait a minute. Smoke a little from above and wait a little with the top open. Then we work fine together, the bees and I.
David's Elgon apiary today
Today there are daughters of these first two Elgon queen in seven of my colonies. They are mated in his apiary. One of the original queens is in the eighth colony, now four years old (and five years in 2019 if she survives, her colony is strong).
This year he bought three new Elgon. In total, he is wintering 11 colonies in his apiary this year. David uses the standard frame size in Sweden, 366 x 220 mm (14.41" x 8.74"). He uses the standard wax in Sweden with 5.1 mm cell size (five cells to the inch). It's the cell size of the first foundation from A. I. Roots from America milling rollers in 1876. I wonder if it's the standard cell size in any other country.
The neighbor beekeeper
It's about 1 km (0.6 mile) to three apiaries to another beekeeper. There are about 15 Buckfast colonies in each of these beeyards. Within 20 km (12.5 miles) of his Elgon apiary, this beekeeper has a total of about 900 bee colonies.
Small amounts of mites
In 2017, David treated his colonies with fumed oxalic acid in early December when there were some degrees above freezing. From most colonies, it fell less than 15 mites because of the treatment. From those which it fell more than 15 mites he later treated once again. From the worst it fell 30-40 mites the first time.
I pointed out to him that there were very small number of mites. The colonies had certainly not needed any treatment at all.
Bee shaker test
I suggested that he should do a bee shaker (alcohol wash) test test this year (see, for example: http://www.elgon.es/diary/?p=67195 ) before deciding if the colonies needed any treatment. It was in mid October I talked to him about it. At that time of the year elgon bees have no brood, so I pointed out that a bee shaker test is not directly comparable to such a test during the brood season. During the season 2/3 of the mites are in the capped brood and not on the bees. This means that monitoring the varroa level with a bee shaker test (alcohol wash) when there's no brood gives a three times higher value than during the summer season with normal amount of brood. Thus a the figures from a broodless period should be divided by three to get a value comparable with test results during the season with brood.
David made a table of his varroa monitoring this fall. One can see that some elgon daughters have a bit more mites than others. And some colonies have very few mites. For finding out the breeding value of these colonies it would have been good to wait with any eventual treatment until spring. But then we had not had these figures. You can at least see from them that there are interesting colonies to investigate more. Yes, really all the colonies are interesting. It can also be noted that the beekeeper with 900 colonies most probably managed the treatment of varroa mites effectively, otherwise one could have expected that the varroa levels could have been higher due to reinvasion. One might also conclude that it's not a disaster if an elgon queen mates with some other drones than elgon ones. This is because a queen mates with as many as about 20 drones on average. And It's probable that at least some elgon daughters have mated with more than just a few buckfast drones. Three colonies, no 4, 5 and 6 were not placed at David's home during 2017 but in the local association's apiary used for courses to teach beginners. In this apiary the colonies now have only daughter queens of David's original elgon queens. David's three colonies were brought back home in 2018. The three colonies were strong and splits were taken from them. The new queen in no. 5 is a daughter of no. 4 (a swarmcell from that hive).
Varroa level and treatment
David made bee shaker tests from about half of his colonies in the third week of October. The colony that had the highest number showed 7 mites. Those who had at least were two of the new queens from this year, 3 and 4 mites. 7 mites correspond to a varroa level during the brood season of less than 1%. The colonies were treated a year ago.
In mid-November now this year David treated all 11 colonies with fumed oxalic acid. The downfall of mites after treatment varied between 2 and 150. Concerning the colonies from which bee shaker samples were taken, those dropped between 7 and 92 mites.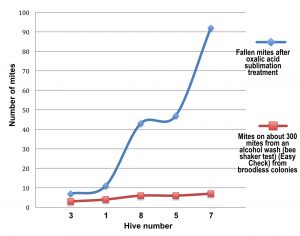 One can see a connection between the monitored varroa level and dead mites dropped after the treatment. However, there is no linear relationship, which may have more than one explanation. But, the figures of varroa level from the measurements are enough good to provide a sufficiently reliable basis for making a decision if a treatment is desirable as soon as possible or if the hives can wait for a new decision after another monitoring with the bee shaker in spring. Concerning David's bees, if it had been up to me to make a decision, I would have waited until spring, first making another varroa monitoring bee shaker test before once again deciding if to treat or not. If the varroa level then would be higher than 3 % or not (more than or fewer than 9 mites on 1 dl of bees (300 bees). But then we would not have obtained these comparative figures, which have given us more knowledge.
Number of mites going into winter
I remember a meeting with the Nordic Baltic Council (with representatives from the bee associations from the different countries) many years ago. Then it was said from Sweden that the goal of the treatment was that all colonies should be going into winter with less than a few hundred mites. In Finland the limit was set to 100 mites.
Conclusions
Two conclusions about David's bees:
– No colony hadn't really needed any treatment to survive the winter.
– The bee shaker samples gave sufficient information for such a decision. The next varroa level test were then to be done in early May.
Thank you David
But if David had not done both the varroa level test in October and the oxalic acid treatment in November, we would not have had these informative figures. The figures give a graph that point out that there is no linear relationship between the varroa level test and the mite dropping after the treatment. It may be due to different reasons. That would be interesting to find the answer to. It is though enough to say that the figures from the varroa level tests are sufficient to provide you with a sufficiently good information to be able to make the right decision to treat or not to treat.
And the most important thing in all breeding work for all beekeepers is always to identify the least good colonies and replace the queens in these. They can get queens or mature queen cells, from some of the other colonies is a good choice.