Some years ago, varroa resistance had risen noticeably on my Elgon bees. Then I started to give away some breeder queens to the neighboring beekeepers. And they promised to graft from them to make new queens. In particular, Stig-Åke Gerdvall (board member of our association) and Peter Tesell (chairman). Radim Gavlovsky, who I began to cooperate with in queen breeding , took as many queen pupae and laying queens as he needed. This had of course also to fit into queen production for my own part and for the customers. The neighboring beekeepers in the local association already had Elgon bees, but now they were able to take part of the breeding successes faster and thus help to spread better drones in a more massive way in the area.  (Click on the pictures to make them bigger, then click on the back arrow in the browser to get back to the text again.)

Share it – it will contribute back
I had tried a similar strategy earlier and it worked. Then, queens were tried in varroa infested areas, before the Varroa arrived in my area. And I could bring back valuable breeding material in the form of pieces of combs with young larvae to graft from.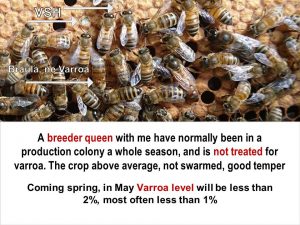 Less reinvasion – reduced varroa pressure
Obviously, good bee colonies in the Elgon are many enough and have now helped each other to keep down the Varroa pressure in the surroundings. Individual colonies with maybe too many mites have not been able to start strong domino effects by contributing too much of reinvasion of mites. Reinvasion brought about by more resistant colonies who silently rob those being richer in Varroa mites.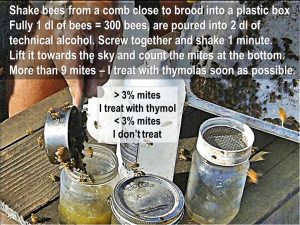 (Photo: R Oliver)
Bee shaker test (alcohol test)
A couple of years ago, we also began to be more careful making bee shaker test and treat as soon as varroa levels were higher than 9 mites from 1 dl of bees, at least (about) 300 bees. Checked at least spring and summer.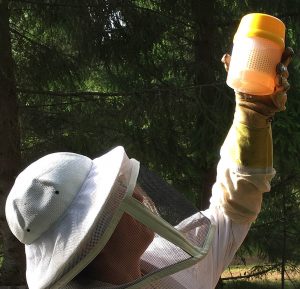 The Elgon area
This has resulted in a very nice result. An area (about 15 x 10 km) in the center of the entire elgon area (about 50 x 10 km) which contains about 350 elgon colonies (in the center area) of good quality, and no other types of bees. Here, most of our queens are mated. Only about 50 of these colonies needed to be treated against varroa this year. There are probably more than 900 elgon colonies in the entire elgon area. Most of them has Thomas Dahl with 300. Johan Ingjald is increasing his numbers. There are several engaged new beekeepers going up in numbers.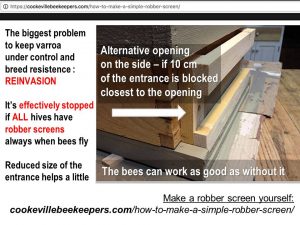 Courses and support
Stig-Åke Gerdvall and Johan Ingjald (TBH-expert) hold beginners courses and queen breeding courses in our local association. They help the participants to get new good colonies, and to help them find good places to mate their new virgin queens. We have also organized a mating site for mini nucs which Peter Tesell manage.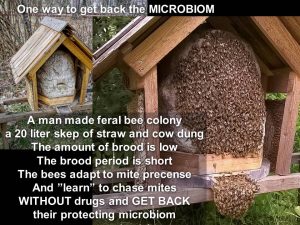 Good figures
The annual losses are about 10% in the area. The harvests are good, and of course, vary with the availability of nectar in the various parts of the area. To the east, it is a problem to produce low crops due to the rich soils.
Regular meetings
We usually meet in Nov-Dec every year and talk about the season and planning the next. This year we are so many so we gather in a bigger locality in Hallsberg. Anyone interested is welcome. Four lecturers. Lessons from feral bees – R Gavlovsky, Knowledge from TBH and Warré – J Ingjald, Possibilities of the Beescanning app – B Lagerman, Tips for breeding resistant stock – E Österlund.  Cooperation works well!
Cooperation in the Elgon area