– African bees are resistant to Varroa mites, or become resistant in about 5 years after the mite has come to their hives, in Africa and Americas

– Italian bees on an isolated island close to the cost of Brazil have showed resistance in the same way as Africanized bees in Brazil. But the varroa level has decreased slower.

– The original host of the Varroa mite, Apis Cerana, is resistant to the mite and is very similar to Apis mellifera (African and European honeybees).

– My Elgon stock is selected for varroa resistance since more than 20 years.

• When reinvasion sources are few or none.

• When varroa levels are tested regularely.

• When bee colonies are treated when the varroa level is above 3%.

• When queens in such colonies are replaced –

• Then Elgon bees in my area seems to become resistant.
AHB1, Africanized Honey Bees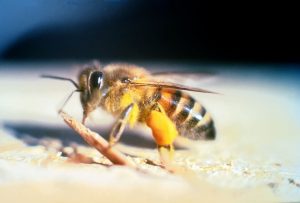 Africanized honey bee . Photo: Jeffrey W. Lotz, Florida/Wikipedia 
Remy Vandame describes in this doctorate thesis in 1996 that he found the varroa level on worker bees to be 5%. And more than 3000 mites in total.
That figure is about the same as in another study in which Vandame also was involved in Mexico some years later.
The AHB colonies were not alone in the test apiary. European queens (EHB) crossed with AHB drones in a number of colonies were in the same area. Those had better performance concerning varroa infestation and virus problems compared to EHB in USA or Europe, but not as good as the AHB. Drifting and silent robbery during nectar droughts are strongly suspected to have happened, thus evening out the results somewhat.
In December 1991 in Brazil, AHB bees were reported to have a varroa level of 4% (ABJ Oct 1997)
EHB on Fernando de Norhona, outside the coast of Brazil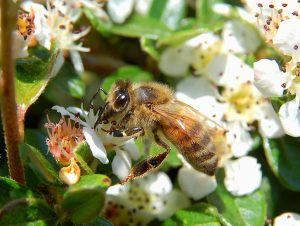 European honey bee (probably not on small cell). Photo: Wikipedia/Luc Viatour/https://Lucnix.be 
Italian bees on a small island at the coast of Brazil (latitude south 22°) has the same small amount of DWV as in honey bee colonies before the arrival of the Varroa mite. This virus seems to be the most dangerous virus connected with the Varroa mite. (DOI: 10.1038/srep45953)
In 1984 africanized colonies without queens were brought to the island. They were made into 20 colonies in which queens reared from 5 selected Italian colonies from California were inseminated with drones from a colony from Georgia, USA.
The number of managed colonies was at the most about 50, today maybe 30. Besides numerous feral colonies that together with the managed colonies form the bee population on Fernando de Norhona.
In November 1991 11 colonies were examined for varroa varroa level. In three of these about every second bee had a mite (50%). Average was 26%. Lowest about 9%.
In April 1993 more colonies were examined. Highest varroa level 39%, average 19%, lowest about 9%.
In May 1996 of those examined the highest was 25%, average 14%, lowest about 9%. No damaged colonies, no virus effects. Good producers, very nice bees. (ABJ Oct 1997)
In November 2012 the varroa level was found to be about the same as in May 1996, about 14%. (DOI: 10.1007/s13592-016-0439-5)
In May 2016 the varroa level was 1-2%. Mites in brood also lower compared to November 2012. (DOI: 10.1038/srep45953) Has the time of the year significance concerning the Varroa level on the island, as it has in other areas of the world. It is lowest in "autumn" whenever that is. Here it seems to be in April-May, with lowest Varroa level then. Highest Varroa level in Nov-Dec. Maybe the lowest and highest months are somewhat different. No one seems to have measured to find out yet. Then it's most logical to compare the figures from Nov 1991 with Nov 2012 and April 1993 with May 1996 and May 2016.
One thing is evident, the bee and mite populations are isolated from reinvasion from outside.
No chemicals to fight mites and big agricultural crops are used, that can contaminate the colonies or lower the immune and defense systems of the bees.
Cell size (about 4.9 mm) from the beginning anyway was that of the Africanized colonies brought there.
The Africanized microfauna came with them as well. The first brood was nursed by healthy non-contaminated small bees that helped the new queens to epigenetically adapt to the new environment.
AHB2, African Honey Bees
African bee in South Africa. Photo: JMK/Wikipedia
When mites arrived in South Africa you could find colonies with huge amounts of Varroa, up to 50,000. No reports of big losses due to the mite were given, if any. In about 5 years both the Cape bee (mellifera capensis) a little quicker than 5 years and the Savannah bee (mellifera scutellata) a little slower were found resistant to the Varroa mite (Mike Allsop doctorate thesis 2006).
Today (2014) the varroa levels are low, and no miticides are used to control the mite. In May, which is autumn the average varroa level was about 2%. In spring, September, it was about 1.5%.
Total varroapopulation in average was in May just below 1000 and in September just below 200 mites. No DWV (Deformed Wing Virus) was found. DOI 10.1007/s10493-014-9842-7
No miticide chemicals are used or were used (more than a ittle in the beginning of the arrival).
No bees full of viruses are spreading DWV.
Cellsize is 4.7-4.8 mm.
EHB in my Elgon apiaries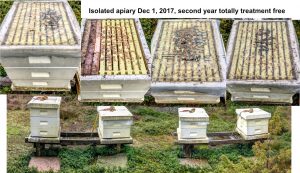 Click on the picture to get it larger. My testapiary for small cell Elgon bees Dec 1, 2017.
In autumn 2014 three colonies were brought from an environment with higher mite populations in some colonies within 2 km to an isolated test apiary, at least 3 km (2 miles) to other bees. None were treated in 2014 and no DWV-bees were observed.
One colony was weak in spring 2015 and got one thymol pad (5 gr thymol). Two splits were made in 2015. In late June three colonies showed crippled winged bees (DWV). They hade varroa levels of 2, 3 and 7% and were treated with thymol pads. One colony with 3% varroa level showed no DWV and wasn't treated. In August 2015 the Varroa levels were 0, 0,3, 0,3 0,3 and 3%. One weak colony that got a laying queen introduced late in the season died during the winter.
Two spits were made in 2016, one were made in 2017. 2017 was the third unusually bad year in a row and the apiary is placed in a forested area with low nectar resources.
Varroa levels in average during 2016 was 0-1,5%, during 2017 0-1%.
No treatment were used 2016 and 2017.
Cellsize 4.9 mm – http://www.elgon.es/resistancebreeding.html – Strategy A. Isolated apiary, treat above 3 % varroa level.
Resistance breeding in an environment with high virus pressure
In most western countries we have a high varroa and virus pressure. Probably the result of heavy use of treating the colonies against mites for many years. In the light of what varroa levels finally stops at naturally, according to the above experiences, 1-4%, and the experiences I have had the latest years with treating colonies with varroa levels above 3% and replacing the least good queens – I find this strategy a good solution to get varroa resistant bees in even difficult environments.
It may probably take a little longer if the new queens will mate with more than a few drones from susceptible colonies. But that doesn't matter to much as a queen mates with in average 20 drones. The bad genetics will be weeded out quite quickly if you are keen in replacing the least good queens every year. 
Reed more on this link: http://www.elgon.es/resistancebreeding.html