I have had this blog for some years now. And I had originally a website in both English and Swedish for many years, which were also not updated for many years. 1.5 years ago or so I updated the English variety. A month ago or so I updated the Swedish one, elgon.se
Now I have updated the English one again. I found an even better application with which I could make an even better so called responsive website without knowing one letter of coding for being able to make it myself. Responsive means it automatically changes when you use a device with a different width on the screen, for example a mobile phone or an iPad. I found this tremendous app on Appstore, named Wolf, for a very low cost.
The web address is almost the same as fro the Swedish one, the domain switches the letters to es: elgon.es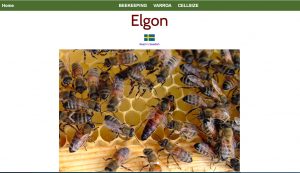 Maybe one article will be of certain interest for many. It's the one named "Resistance breeding". There I give the latest experiences concerning the new or modified strategies I have tried for some years now. I may well come back to them.