In the search for breeders for this season I tested a number of hives for the infestation level of Varroa mites in the beginning of May. Those choosen had not been treated for mites either not at all last season, or very little with thymol in the spring last year after showing an odd wingless bee. This was before the time of the Beeshaker with me. Better hade been to use the Beeshaker before using thymol to really know the infestation level.
I used the Beeshaker (more info about it and how to use it: http://www.elgon.es/diary/?cat=85). There were colonies with 0 mites from somewhat more than 300 bees. The best of those I use as breeders this year.
I also gave a number of colonies a thin tray with a coarse mesh that bees couldn't pass hrough. High enough from the bottom of the tray so the bees couldn't clean the tray. It covered almost the entire bottom. The purpose was to collect natural downfall of mites over a period of time.
I send some queens abroad and the Board of agriculture wants to be sure I have no tropilaelaps mites and no small hive beetles. (Both of those two pests have not been found in Sweden, tropilaelaps not even in Europe, the small hive beetle only in Italy.) Three weeks before the veterinary and the bee inspector came to visit for checking my bees I inserted these thin trays. Of course the inspector and vet also checked for American foul brood.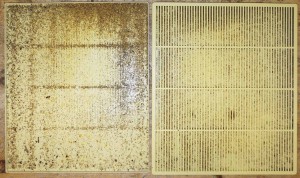 Varroa trays for checking natural downfall of mites. The one to the left without mesh cover.
Two of those hives I had checked with the Beeshaker got a tray. Three weeks later one of them had 7 mites on the tray. The other had 8. The bee shaker had given 1 mite each for these two hives.
1 mite per 300 bees is 0.3% infestation level on the bees (not counting the mites in the brood, those are usually at least the double amount).
Let's say I missed 2-3 mites of the natural downfall. That would then be 10 mites in let's say 20 days for easy math. That gives 0.5 mite per day. It's been said that natural downfall per day during the brood season multiplied by 120 gives about the total number of mites in the colony. That would make 60 mites in total in those two colonies. The number of bees in those colonies were more than 30,000 each. But let's say it was 30,000. If we divide 60 by 30,000 we get an infestation level of 0.2%. This level is though including the mites that had been in the brood during these 20 days, so the figure is not directly comparable with the 0.3% to confirm that the two methods give about the same result. The estimation of multiplying with 120 and other uncertainties makes comparison and/or the methods not exact anyway.
Does this comparison give an indication that these methods are good enough for checking the varroa infestation? Both methods have been used by others to decide when to treat or as a selection help for varroa resistance.
When the infestation level is so low as given above, it's not possible to check the VSH trait either, as you will find too few pupae with mites. You can ask yourself if it's at all necessary to test for mites anymore. I agree. But all my hives are not as good as these and reinfestation occurs. So I think I have to keep track in some way. Not in first place I think to find the best ones, but to find the ones with most varroa so I can protect the others from reinfestation.
The perfect resistant colony is of course such a one that is not very much affected by reinfestation, not letting in bees with mites on them for example. I will test colonies in August as well and I will check the hard boards in front of the hives for crippled wing bees or grey young bees crawling around as indications for viruses following to high varroa infestation.
Keeping track of the infestation level