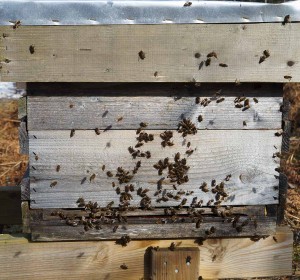 Autumn was warm, with bees flying in november. That's rare. Winter was mild, only 2-3 weeks with steady freezing temperatures day and night in January. That's rare too. Spring has come slow with temperatures just above freezing. Sun is rising more and more above horizon. Those days we've had sun, which havn't been many. Now it's warming in the middle of the day.
Sunday March 9 the great day came, when the bees flew out in their big bathroom after confined to their bedroom for many months. I wasn't careful where I parked the car, in the open about 100 meters from the hives. The bees happily spotted the shining roof and shouted: Toilet! And dropped what they had had collected during winter.
Last year I used treatment against Varroa on much fewer part of my hives than previous years, 50%. That's because no more had given me the sign for treatment, wingless bees.
And 36 colonies were potential breeders in autumn, the bees in those colonies hadn't been treated last year or the year before. All of these have wintered very well so far. The year before (2102) I wintered 11 potential breeders. I used 5 of them for breeding last year (2013). 2011 I wintered 3 potential breeders. 2012 I used 1. Regardless of how many pass the test for breeding this year, I will probably not breed from more than about 5. The others I will at least take a walk away split from.
Two colonies have died so far, out of 170+. That's 1%. I can't remember when I had such a good overwintering before. But probably some more colonies will die.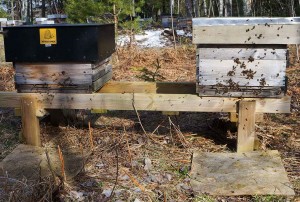 These two colonies are both afterswarms (with virgin queens)  in July last year, from the same colony. A colony that have never been treated against Varroa. It have VSH-index 40%, but somewhat grumpy in temper and gave a small crop. Both colonies were of course small going into winter, but have been sitting still with a tight cluster until March 9. They have eaten very little food until now.
First cleansing flight after winter