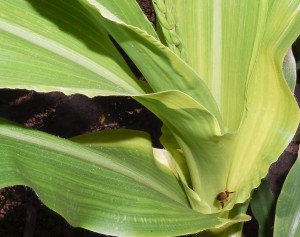 For whatever it may mean – concerning discussion of the danger of neonicotinoid plant protection poisions – for bees in first place. Poision is never harmless, even if the harm it may cause to others than the target bug, vary quite a bit. During different circumstances.
One of the dangers for bees discussed is when the neonics are used as coating on corn seeds. When planting the kernels (dust) and during the time when the plants are small (guttation drops – water drops on the plants from within the plant).
During short periods under certain circumstances my bees were seen seeking moisture deep down in the axillaries of my homegrown corn (starchy corn as the type is used by framers). They are not flowering yet as can be seen. At this point you can speculate that the plant fluid is still toxic to bees, if the plant seed is treated with neonics.
It hadn't rained for some time. The corn was not irrigated. They grow on a place where their roots can reach moisture.
If you have corn field close to your bees it may be good choice to give them a water supply of your own.