In north Wales, there is a group of beekeepers that do not treat honey bee colonies against the Varroa mite. They havn't done it in years. Winter losses are lower among their bees than with those who treat. Here is a video made about them: https://vimeo.com/157019200
Dave was probably the one who was the first to stop treating. Then Pete stopped. He is a bee inspector. He had a lot of losses initially. He knew there were feral (wild) bee colonies. He observed that they stopped giving swarms when the Varroa came, but all feral colonies didn't die. Some lived on, and after 3-4 years, they began to give swarms again.
Clive stopped to treat because Apistan stopped working in 2004.
Pete now focused on capturing swarms from feral bees. Then his bees survived better. Others split the colonies that survived Varroa best and had small Varroa populations. They provided new beekeepers with such new colonies. And the number of treatment free beekeepers grew.
Many of them don't feed sugar but let them live entirely on honey. They keep the number of colonies in apiaries low. Pete has maximum 5 in each apiary. With his 60 colonies he harvests his 2 tons of honey to serve hos customers.
In 2010, they began to wonder how big the differences in losses were between those who treated and the treatment free beekeepers, so they asked around. The first line of numbers in the table is from the winter of 2010-2011. The last line is a summary of five winters.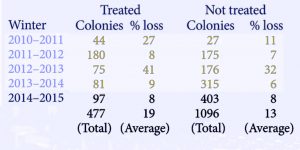 Conclusions from the video:
The treatment free beekeepers group dominant their area with their bees
They cooperate with the feral bee population in the area
If you make splits, make it from the best colonies and let the bees make new queens.
Take swarms.
The colonies that are not fit enough die (or are requeened, if not by the beekeeper, by the colony itself).
No mating station with sister groups producing drones is used. All survivors are producing drones for mating with virgin queens.