Bees can develop rapidly in spring, or slowly, or in between. Carnica bees (Carniolans) are usually known to develop rapidly in spring, while black bees (A. m. mellifera, AMM) usually develops slowly. If the bees are developing quickly, they eat more food as they make more brood. It is brood that requires a lot of food, both for feeding the young and for keeping brood temperature in the hive.
Carnica bees usually start brooding early and strong. Mostly they react quickly to availability of fresh pollen, especially later in summer when chilly weather keep them inside the hive and brooding thus is greatly reduced. The AMM bees are often adapted to a late honey flow and weak early flows. The late heather flow in the Nordic countries has been involved in forming this bee. The yellow Italian bees come from a warmer climate where it may be smaller weaker honey flows during a long time of the season. They often tend to breed most of the time the whole year long. Therefore, there have been management methods of beekeepers in Sweden to handle this. For example, to hinder the bees brooding in winter by wintering them in one box only with ten frames of Swedish standard frames (366 x 222 mm). Then they let the bees fill the box with as much sugar solution that they can, thus leaving very little space left for brood. Such a small box full of Italian bees should not be well insulated. But if the colony is not very strong, a good insulation is necessary in our climate.
A cold spring like this in 2017 is a hard test for the bees and the beekeeper. It may not have been such a cold spring since temperatures began to be measured in Sweden, probably since the mid 18 hundreds.
Which bees are then the best?
For survival of the bees, they obviously should develop slowly in spring, and have no or very very little brood in winter. Thus they are more able to economize with the food so that it lasts until they can collect more fresh nectar from flowers in nature. They must also be resistant to diseases that can create difficulties when spring is cold and long, especially nosema.
But a beekeeper who wants a little better honeycrop than just 10-15 kg in average, and is trying to make a living from his bees must have a little different goal for his bees. This beekeeper needs a bee that can be wintered stronger than just on one box of smaller frames. It shouldn't breed in winter. But it should develop strong in spring, if there is food enough.
I prefer the Langstroth length of the frame, to get strong colonies. The frame height can be anyone of the available options. The goal is as strong a colony as possible going into winter, with plenty of food. Preferably at least a box on top full of feed.
Large amounts of food are not needed for wintering, but for making brood coming spring. Where I live, with my bees, brooding begins in smaller amounts in late winter and increases at the beginning of March. Later in March the queen lays a lot, especially after the main cleansing flight that normally takes place later in March.
A year like this, the amount of brood will vary in line with the ability for the bees to fly out of the hive and get water for the brood. Bee types differ in ability of flying at lower temperatures. The beekeeper must ensure that there are always at least 2 frames with capped food so that the bees can make brood without risking running out of food. (Italian bees, unfortunately, often breed strongly with almost no food left, which is very risky for the bees, with starvation as the result.)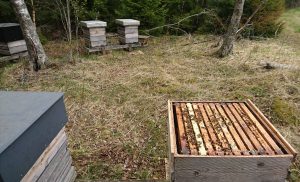 A few days ago temperature was 8-10 °C. Many colonies was more or less packed in the first super above the queen excluder. They got two more supers if they were more packed, one more supers if they were less packed. Today 18 May it is summer. The picture shows colonies in an apiary before they were supered a few days ago.
In order to be able to get a crop from early honey flows, the bees must be strong enough to fill at least one super above the queen excluder (one box more than expected room for the broodnest of the queen) and a second for the development of the strength of the bees, when the first early flow begins, which usually is from winter rape.
A long cold spring like this means you have to check the bees frequently to ensure they have food enough. The best is to give the bees capped food combs. I get them from my stock of capped food combs which I established in November removing some outer food combs from heavy hives in which the bee strength was smaller. Those combs were replaced with insulation dummy combs. Food combs can also come from colonies that have died during winter. Combs that have been heavily defecated on and can not be cleaned are not used. A few spots of defecation a strong colony can handle. Another option when food combs are not available is sugar fondant. The last option is sugar solution. It will can cause the colonies to make too much brood.
Especially a spring like this you see a difference in the bee colonies. There are those who have bred too much and used up too much food. And there are those that responded too much to the cold periods and stopped brooding almost altogether. And then there are the perfect ones that did not need extra food but still developed continously and developed enough good strength, albeit not the very strongest. Then there are those which developed very well but needed some extra food combs. The two last types of bees are those that should be favored when selecting for breeders. First priority is though of course Varroa resistance.