I know it can be beneficial to count mites. But I don't have the time. But those colonies I check for VSH, they will get figures enough to get the infection rate for mites in brood. (But I just check some.) Sometimes I've heard that two thirds of the mites are in the brood. If that's correct then the infection rate on bees (phoretic mites) is half of that.
Many use the infection rate increase from one time till some time later to get a figure of resistance, saying the colony with lowest increase is more resistant. That might be true, but infection rate is dependent on other factors then mite reproduction success in the colony, such as reinvasion of different causes.
So I use the lazy method checking for signs of virus (DWV), thus also selecting for virus resistance. Then when I see this, I treat, with thymol, just the colony (-ies) showing virus. Over the years the number is decreasing and the amount of thymol is decreasing also, telling me this is a method that works.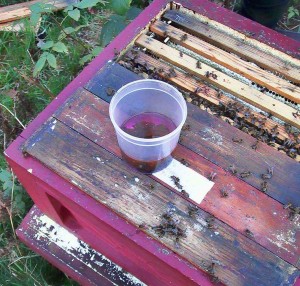 For alcohol wash I recommend taking bees in the broodnest third frame from the back or one side to avoid including the queen in the alcohol and getting away from the entrance.
If you count mites, the most accurate method I think is alcohol wash, of as many bees you can afford (100-300 bees) when the colony has no brood (or as little brood as possible).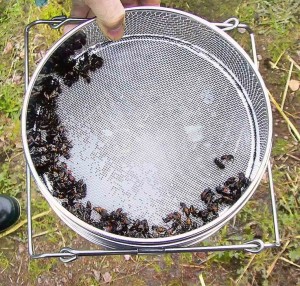 Shake the bottle with bees and alcohol strongly for a minute to loosen the mites. Pour them on a double sieve. Flush water on the bees strongly and count the mites in the second sieve. Also count the bees in the first sieve.
But beware where you take the sample. Don't take it on bees close to the entrance. Mites are fewer there according to findings of Thomas Kober (personal information). So how do you avoid entrance bees if you have all the combs sitting with their edges towards the entrance? The best place maybe is in the broodnest but as far away from the entrance as possible, box two or even three maybe. I havn't seen a paper on where the best place is. Maybe you have?
This is another reason I don't count mites, the uncertanity if the density of mites is the same in different places in the hive.